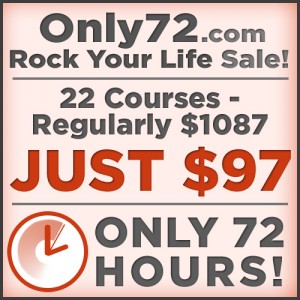 Last October, Adam Baker (of Man Vs Debt) and Karol Gadja (of Ridiculously Extraordinary) put together a 72 hour sale of thousands of dollars worth of informational products — for a price tag under $100. They sold almost 2,000 packages, raising thousands of dollars for Kiva in the process.
This week, they're doing it again, focusing on personal development products. I'm proud to say that the Creativity Toolbox that Ali Luke and I put together is included. If you've been considering buying it (or any of the products listed below), now is the time to do so.
The package deal includes:
Even if you only see three things on this list that have been on your 'to buy list' forever, you'll be getting a better price than you would otherwise — the whole package is available for $97. Better yet, these products are life-changing (provided you actually read and use them)!
The sale only goes for 72 hours, from June 20 to June 23. There will likely be other 72 hour sales, but not with this set of products, so you better get while the getting is good.
Click here to buy the Only72 personal development package.