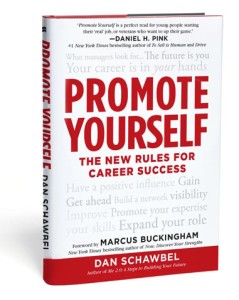 Depending on who you ask, I fall into the Millenial or Gen Y age group based on the year I was born in (1985). The research about Millenials is generally fascinating, although not always flattering. Dan Schawbel, also a Millenial, has just come out with a new career guide, just for our peers: Promote Yourself: The New Rules for Career Success
. I received an advance copy and generally found it to be a good read with some very interesting original research. Some of it I just can't get out of my head, like a survey of Millenials that showed 56 percent of the respondents wouldn't work at a company that banned social media use!
What struck me, though, as I read through Schawbel's book, is how universal his advice is. While Promote Yourself is ostensibly just for Millenials working for larger companies, the advice mirrors what I would tell a new freelancer in many ways, as well as what I might suggest to someone of a different age group — there are some pieces tailored to members of Gen Y, but most of the book is simply good advice for anyone early on in their career.
For example, Schawbel puts a lot of emphasis in this book on 'thinking inside the box.' He cites research and anecdotes about how Millenials are known for wanting promotions faster than most companies are willing to award them and that to get those faster promotions, an employee has to find ways to excel within the existing system. I have my doubts that Millenials are alone in expecting speedier promotions than managers are willing to award; it may be more a matter of the age group being willing to announce that they'd like those advancements publicly. But working within the boxes that an organization sets out is fundamentally good advice — and not something always suggested. But whether you're working as a freelancer or as a full-time employee, you're going to have meet the expectations set out by your manager or client. Getting fancy or going overboard without following the guidelines of the organization you're working with won't always help your cause, but getting some buy-in (working within the box) will make the process a lot smoother and earn you rewards faster.
Overall, Promote Yourself offers a clear guide to professional development, with an eye towards branding yourself as an expert within a large organization — and perhaps even bringing a little entrepreneurial oomph to what you're working on, no matter how many layers of management you're dealing with.