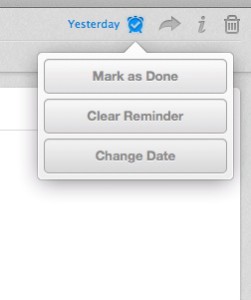 In case you haven't noticed yet, I'm a big Evernote fan. I like that I can access notes from anywhere, as well as do other tricks with it.
Evernote recently rolled out a new feature that I'm in love with: reminders. You can add a reminder (or, as I keep referring to them in conversation, a due date) to each note in your Evernote account. If you've got Evernote on your phone, you can get your reminders right there, as well as by logging into your account or using the desktop software.
The Editorial Calendar Experiment
I'm currently experimenting with whether I can use an Evernote notebook as an improvement on the spreadsheet approach to editorial calendars.
Pros:
With the Evernote reminder feature, I can set a separate reminder for each individual article.
I can set the URL for a given note to wherever I'm writing the article, whether that's a Google Drive document or a blog post draft.
I can immediately move notes from finished articles into other notebooks (such as a 'To Invoice' notebook.
A note usually is as much room as I need space to pull together information for a given post: I copy guidelines, research and everything else into the same note.
Cons:
I can't see the whole calendar in one view. The closest I can come is looking at a list of all my upcoming reminders.
My organization is based on a fairly complicated set of tags, notebooks and remembering to add specific information to each note. Let's just say that there's room for failure here.
There's just as much management work that I need to do by hand on an Evernote-based editorial calendar as on a spreadsheet-based editorial calendar. I've been trying other software, but nothing has won my heart.
I'll keep tweaking this approach.
Reminders to Come Back to Projects
I routinely have to pause certain projects because I'm waiting on some dependency — an email or an embargo date. I really like having something concrete to remind me to come back to a project to check whether I've received what I need. Having to constantly review files is really unappealing.
Just setting reminders for review has been very helpful already. I can get more things out of my head and into Evernote, if I know when I need to act on it.