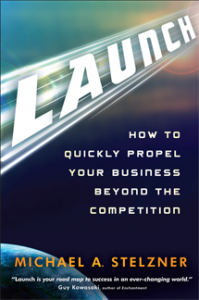 This is a book that I've been trying to read, review and post about for what seems like forever. I received a review copy of Launch not too long after it came out earlier this summer. The author, Michael Stelzner, is the founder of Social Media Examiner — a site that never fails to have great information on social media, while avoiding the same stories that other sites repeat over and over.
I went into Launch with high expectations. And — despite the fact that I'm not Stelzner's target market — I wasn't disappointed.
Content as Fuel
First of all, I have to admit that I'm a sucker for space metaphors. I'm fascinated by rockets, moon landings and all the rest. It looks like I'm not the only one, based on Stelzner's use of space metaphors to make ideas around content marketing understandable to small business owners.
Within that context, content (especially online) is nuclear fuel. It's the stuff that propels a business into the stratosphere, probably before you can even get clearance for lift off from ground control. I say I'm not the target market for this book because I absolutely agree with Stelzner. Done right, content marketing can't help but help a business grow. I've been working in this field for several years now and no one needs to persuade me of the value of content or show me how to use it.
But Launch does fill a need. It is full of not only persuasive material that showcases just how useful content can be for promoting a business, but also a lot of how-tos. Stelzner is known for producing fantastic white papers, publishing an annual Top 10 Blogs for Writers. He breaks down the value and the mechanics of both techniques as well as several others, showing business owners how to really make use of these techniques.
Who Should Read This Book
If you know that you need to be doing more marketing for your business, but you're not exactly sure where to start, you should start with Launch. Depending on your industry and your own experience, there's a fair chance that you'll need additional help with all the marketing projects you come up with while reading the book — but you'll have the basic knowledge that will let you choose the content marketing projects that are best for your business.