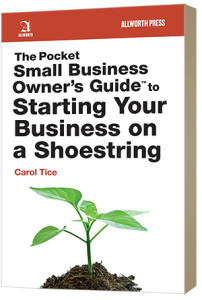 Normally, I try to look for a bigger theme or a bigger idea when I post about books here; I don't necessarily like writing basic book reviews. But the book I want to bring to your attention today doesn't waste any time getting down to important information, so neither will I.
If you're considering starting a business ever, go out and buy The Pocket Small Business Owner's Guide to Starting Your Business on a Shoestring
, by Carol Tice. For everyone who has ever asked me where to get started when planning a new business, this is the book you need to read.
Tice covers all the mechanics of setting up a new business, with a heavy emphasis on where you can bootstrap or otherwise set your business up for a minimal cost. She goes through each step, from conducting market research on your business idea to paying your taxes after your business starts making some money. In the interest of full disclosure, I did receive a review copy of the book. However, I'm already planning to buy a few copies for a few friends who keep asking for advice on starting up their businesses.
It's as simple as that. The book is an excellent reference guide for new entrepreneurs, with lots of hands-on advice. I can't recommend it any more strongly.