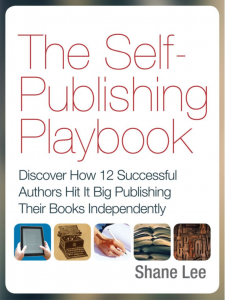 Self-publishing is hot these days. All the cool kids seem to be put together short ebooks and publishing them on Amazon. In an effort to collect some of the wisdom of authors who have been self-publishing since before the trend started, Shane Lee put together The Self-Publishing Playbook
.
This ebook isn't necessarily my preferred format: Lee interviewed twelve authors who have self-published their books and collected the results in ebook form. Most of the ebook is, in fact, questions and answers. The questions are fairly similar across each interview. Lee clearly had his system down.
This structure isn't easy for me to read. I get bogged down in the repetition. But there is a value here for those of us who have a hard time with the format: because Lee took this approach, it's easy to see what strategies are really working for these successful authors. In reading through the interviews, it quickly became obvious, for instance, that they sell most of their ebooks through Amazon. Many other sites don't sell enough of even wildly popular ebooks to register. That's a crucial detail for anyone considering self-publishing.
I need to note that I was asked to do a review of The Self-Publishing Playbook. The author alerted me to a free giveaway he was doing through Kindle and asked me to download the ebook. Right now, the Kindle version is selling for a couple of bucks.