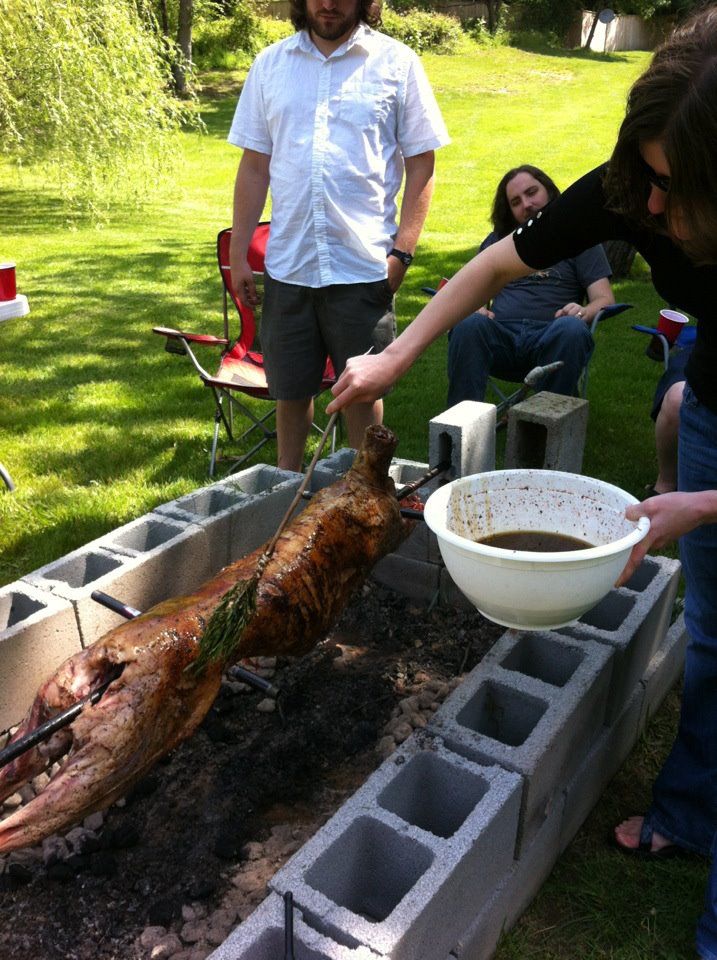 This weekend, I roasted a lamb in my backyard. I bought a keg. I invited a ton of friends — and told them to bring their friends, too. It was an epic-level shindig. We're not precisely sure how many people wandered through over the course of the day, but we think attendance hit at least fifty.
My husband and I, with the amazing help of a few friends (shoutout to Amy Monteith and her husband — Amy can, in fact, cook anything and none of this would ever happen without the two of them), throw this sort of shindig three times a year. We love having all of our friends over and just hanging out, plus having an excuse to eat really good food just makes it that much better.
But These Sorts of Parties are Part of Being an Entrepreneur
As much as I'd like to say that we're just awesome people who like to party, I have to admit that there's a lot of deeper thought that goes into these shindigs. I consider them part and parcel of running a business, even if I can't write the whole thing off on my taxes.
Entrepreneurship is, at the end of the day, about having a really strong network. You need people who want to work with you and who you get really excited about working with, whether you're looking to land a new client or you need a new host for your website. Personally, I prefer to do business with people I know. Getting to know people in a social setting means that I get a clearer idea of who they are before we ever start talking about money.
A big party is an easy way to get to know people. When we play the 'bring your friends' card, we get to meet people who we probably wouldn't encounter at more traditional networking events that only cater to one industry or even one clique.
Parties Make for the Best Businesses
So far, no one has founded an entirely new business at one of my shin-digs (although we've come pretty close). But people have found freelancers to take on new projects, instructors to teach classes and learned about the perfect product to help them out with whatever they're working on. I'm not talking about hard-selling — I'm just talking about connections that come up when the standard 'what do you do?' gets asked.
I do invite people that I particularly want to introduce to someone else, but that's almost an added bonus. Of course, having a specific event that I can make introductions at makes my life easier, but it's the serendipity of just hanging out with a bunch of cool people that tends to make for the best connections.
I can't do all the networking I'd like to at my own shindigs, as much as I might like to. But I can routinely have a bunch of fun with friends and help my business out at the same time. It's a good feeling. As an added bonus, we get to have an awesome time roasting a whole lamb. I took the photo above on Saturday.