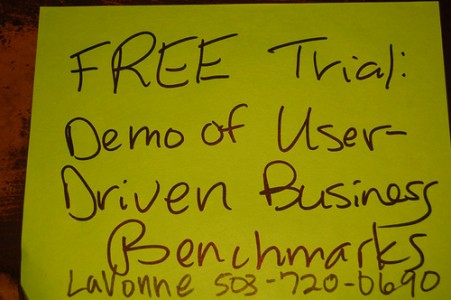 I'm a sucker for free trials. I'll sign up for anything and then go in to start playing with it. Even when I have a perfectly good option already in use for my business, I'll try something new — and it's going to drive me up the wall.
Too Much Information Can Be a Bad Thing
If I'm planning to write a review of a particular tool, I can make it worth my time to spend hours and hours on trying it out, barely. But, over all, it's rarely a good use of my time. Even worse is when I find something I like. In terms of most of the tools I use on a daily basis, like Basecamp for project management, there's no way that I can currently afford the time it would take to switch to something new. It's like going and looking at office space once a week, even though I'm in the middle of a big project that can't possibly be packed up and moved.
I try out new tools because I want to be aware of what's going on. I'll admit that I love playing with new approaches and techniques and toys. It's why I have dozens of notebooks that I've written in the first third, but never completely used because I got an even better notebook to write in. New apps and software are the same way: they give me too many ways to get distracted.
Free Trials as a Marketing Tool
Since I'm being honest, let me put this out there: I don't believe that a free trial is going to change most buyers' minds about a product either way. That's because most people who open up a trial account go in, poke around for about five minutes and leave. It's incredibly hard to get a good feel for a new tool without investing hours of your time.
On a project where I wrote reviews in the past, I proved that I could gather enough information, as well as screen shots for a 500 word review in under ten minutes of use — which, unfortunately, isn't nearly enough for me to actually tell you if a given tool is going to help you. But it's what people have to do if they want to put up a review the day a product launches.
All that means that free trials have turned into something that people offer because it's expected, not because it will actually make a difference to sales. And while I'll shamelessly take advantage of free trials, I won't offer them on my own projects. It's not a good deal for me and it ties up resources I can better use elsewhere.
Consider this blog your free trial offer when it comes to anything I do. You get to see a lot more of my interests and abilities here than you would in five minutes on a site I've just built. You get to ask me questions, give me advice and actually interact through that nice comment box down below. It's a better deal all around.
I'm Trying to Break My Addiction to Other People's Free Trials
In the meanwhile, I'm trying to avoid the opportunity to sink time into web apps and other tools that I'm not actually going to switch to or review. I'm saving tools that I might consider in a list to try out and maybe I'll spend a couple days going through all of them in one go. But I've got better ways to spend my time and I don't need to take up the resources of some new start up, no matter how cool it looks and how much I just want to play with it.
Image by Flickr user Selena Deckelmann