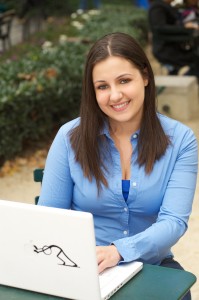 The entire idea of going out on your own full time can be thrilling and scary, all at the same time. Melissa Breau is making the leap right now and agreed to answer a few questions for us about how she's making the process work.
Why did you want to freelance full-time? Just to play devil's advocate, I'd like to point out that a lot of people would tell you you're crazy to leave a full-time job in a recession.
Isn't everyone who starts a business at least a little crazy? Although I've always wanted to freelance full time eventually, a number of different factors came together recently that made it the right choice for me right now.
First, my long-time boyfriend joined the navy and relocated from New York to South Carolina. Second, he volunteered to help me make ends meet while I get my business off the ground. And third (and probably most importantly), I hit a point at my full time job where I was no longer being challenged professionally and there was no room for advancement; I needed to make a change.
What did you do to prepare for working for yourself full-time? Were there any financial steps you took to make sure you'd be comfortable with the transition?
Freelance full time meant making a lot of changes. I knew from my research that it generally takes about 6 months before freelancers are making a living wage. So I had to prepare for that–and there was no way that was going to be possible living in New York City. I needed to be spending significantly less a month (I was spending $800 a month on rent alone).
Fortunately, cost of living is much less in the south. I figured out a reasonable budget and saved about 4 months of living expenses (figuring that over 4 months I should be able to earn an additional 2 months of expenses) plus money for a car and the move. I stressed over numbers and set up an excel document to chart how much I needed to make a month for that to work. I also asked my grandmother (who lives in NC) if I could camp out in her spare bedroom for a month or two until I find an apartment down here, which helps further reduce costs.
It's only the second week now, but due to some unexpected expenses (namely, car issues after I purchased a vehicle) I've gone through a bit more of my savings than anticipated. Despite that, I'm fairly confident I'll be okay.
I arranged with my old boss to continue working for the magazine I just left, as a monthly columnist, which will provide some regular income. He has also assigned me a number of additional pieces, which will also help patch holes. And I pitched a few assignments before going freelance that I've managed to land.
Additionally, I've got a TON of ideas for products and services that I'm working to bring to fruition that will establish regular income with a fairly minimal amount of work (more info on this below).
What sort of plan do you have in place for making sure your freelance business grows? Where do you want it to go in the future?
First, as I mentioned, I have monthly financial goals. These step up slightly every month for the first 6 months–starting at a fairly low number, and climbing to what I'd like to be making monthly for my first year.
Second, I have a number of writing projects planned. Since for the last 3 years I've been in the pet industry, I'm working on a product that offers various animal service providers with content for their newsletters for a low monthly fee. The trick is finding service providers in different areas, so that I can re-use the same article, but without them having to worry about their clients receiving the same information from two sources. I've decided to offer it to one service provider in each state–so 50 clients paying monthly for one article (which takes me a minimal amount of work to write). If the first one of these is successful, I'll probably branch it out to other types of companies and perhaps eventually other industries. I'm still writing for magazines and have a whole list of publications and article ideas I need to pitch–as soon as I do the research to write a solid pitch letter.
In addition to my writing projects, I'm working to become more involved in editing ebook-length projects. I have my masters in publishing and my resume includes time working for Columbia University Press and Manhattanville College marketing department, in addition to my years as an editor at Pet Business Magazine. I've worked on a few projects like this for various clients, but I would really like to grow this aspect of my business over the next 6 months and am working on a marketing plan to allow me to do that.
Finally, I plan to continue offering copywriting services, which I've done as a part time freelancer while working full time at the magazine for the last year and a half.
What's the most exciting thing for you about going out on your own? What are you really looking forward to?
It's funny, but the thing I'm most looking forward to is the one thing so many entrepreneurs worry about. I love the concept of an integrated life–doing something you like enough that you can't put it down. I'm a bit of a work-a-holic and one thing I hated about working for a company was the push back whenever I wanted to really dedicate myself to something. I love the sensation of throwing myself into a project; while at a number of my previous jobs, that was discouraged–my coworkers tended to believe in putting in the minimum and if I did more than that, it was chalked up to youthful over-enthusiasm. And nothing is more discouraging that doing extra work just to have someone be amused that you bothered.
I'm also looking forward to the location independence; I'll be living in a number of different locations in the near future and my navy boyfriend will be traveling a lot–it'll be nice to be able to fly out to visit him on location (when allowed) and to just be able to bring along my job. I won't have to worry about finding new work in each location he is moved to; I'll just have to worry about building a new in-real-life network.
Overall, I'm as terrified as I am excited; only the next year will tell which emotion is more justified.
BIO: After a year and a half of freelancing part time, Melissa Breau recently left her full time job as a magazine editor to take her part time freelancing business to the next level. She is a freelance writer, editor and a cheesy romantic who likes long walks on the beach and arguing about comma placement. She is blogging about her freelance journey over at Jargon Writer — or learn more
about the services she offers on her website, MelissaBreau.com.