Content warnings: Discussions of death, genocide, state violence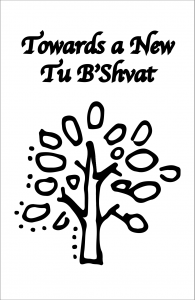 I made a short zine exploring new ways to observe Tu B'Shvat, which you can read on my Twitter or grab as a PDF. There are both print and screen-friendly copies of the PDF at that link. Please note that I wrote this recently enough that I have not been able to run it past a sensitivity reader yet — all errors are my own and I fully expect to have a new version in time for Tu B'Shvat 5783.
If you're interested in reading further on the topics I mention in the zine, here is a list of websites, articles, and videos that I recommend, broken down by topics. The sources I used to create my zine are included here, along with those covering details I couldn't fit into just eight pages.
​What is Tu B'Shvat? History and origins
New and evolving ways to observe Tu B'shvat
Resources on Indigenous land return
Resources on Jewish relationships with Indigenous sovereignty
Resources for planting trees
Resources for working in nature, including agriculture
Portland-specific resources