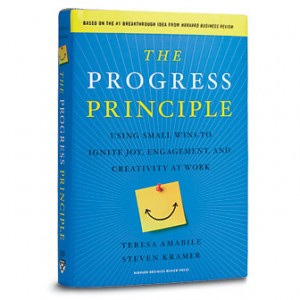 Officially, The Progress Principle: Using Small Wins to Ignite Joy, Engagement, and Creativity at Work is geared towards bigger businesses. Its authors, Teresa Amabile and Steven Kramer, focused their research on creative teams within much bigger organizations — the guys who do R and D work for a big corporation, for instance.
But while the teams studied didn't have as much on their plates as any good entrepreneur is juggling, there are still a lot of relevant concepts in this book for someone with a significantly smaller team. We may not be in a position where we need to motivate employees right this instant, but we need to motivate ourselves and anyone else that winds up working with us (even if they aren't employees). That's even more true when we're talking about creative ventures.
The Research Behind the Book
Amabile and Kramer are, first and foremost, researchers. They've both done some pretty intense study of business and creativity. The Progress Principle is no different. Before writing the book, they collected more than 12,000 diary entries from individuals who work on creative teams and they did an incredibly in-depth analysis of all of those entries.
The Short Version
There are certain things that seem like common sense when it comes to working with a team. Little things, like treating your team consistently and not changing up the schedule underneath them, make a team work better. But Amabile and Kramer's research demonstrates that isn't quite as common a perspective as we'd like. Within their case studies, they identify some fairly depressing examples, like companies that don't even give employees the necessary resources to do their work or that change projects with no warning. These may be signs of a bad corporate culture to begin with, but it also highlights how easy it is to skip over facets of working with real live human beings that should be second nature.
The name of the book, The Progress Principle, comes from a noteworthy find in the duo's research: when a team member feels like she's making progress, she feels much better about her work. Day in and day out support are nice, an environment in which a team member feels valued is lovely — but the real motivation comes in to play when someone is able to see that she's moving forward.
It's worth your time and effort to cultivate an awareness of the progress being made on any given project, whether it's your own progress or someone else's. Sure, there's plenty of other really useful information in this book, but that's a great starting point.
A Final Note
I'll be honest with you: this book is dense. If you ignore the introduction, the appendices and everything else that isn't the meat of the book, you're only reading 182 pages — yes, I counted. But there's nothing extraneous in there. It's the results of an exhaustive research project. If you're the type to geek out on big data sets, there's a really interesting breakdown of Amabile and Kramer's data collection in the appendix.
It took me longer than usual to make it through this book. I can normally pound through a business book, but for The Progress Principle I had to slow way down, reading just a section at a time and thinking through what it means. I do recommend the book, but not as light reading.