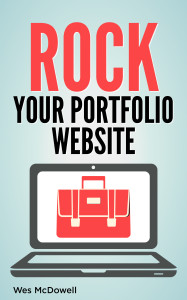 It's still not that easy to find good guides to creating online portfolios: it's rare enough that a guide gets published at all that many of the books available are still stuck in the dark ages.
Rock Your Portfolio Website, by Wes McDowell, however, is a modern take on portfolios, as well as an easy read. McDowell is a web designer and writes from that point of view — but the resulting ebook can be used by any creative building a portfolio.
I particularly like that McDowell puts an emphasis on case studies and testimonials, but does not just relegate them to their own page. It's important that prospective clients see why you're so great to work with on every page of your website.
McDowell also pointed out a few ways to build better relationships with your website visitors that I'm considering how to put into practice on my own site. For instance, he recommends taking a photo with each of your clients — something that will really drive home both that you're a real person and that your past clients adore you. It's not an easy proposition when you consider that many of my clients are literally on the other side of the globe, but it's worth the effort to figure out how to take at least a few photographs.
Take a look at McDowell's own portfolio website: you can tell that he knows what he's talking about.