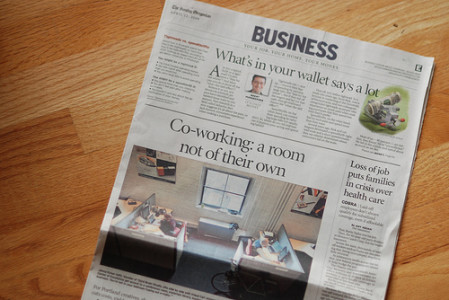 I come from one of those families where missing a sibling's high school graduation gets you tried for high treason. If we're talking about missing graduations for graduate degrees, you may face summary execution without a trial. This, and other family obligations, results in a situation where I'm often traveling. Add in travel for business and I feel like I'm always on the road — especially when I need to get work done.
When I'm planning a trip, one of the first steps I take is to search for what coworking spaces are in the area. I've worked at a whole slew of coworking spaces now (and a few places that weren't precisely coworking spaces but would rent me a desk for a few days). I'm a true convert to the church of coworking, particularly on the road.
Coworking's Appeal on the Road
I used to try to work in hotel rooms when I traveled. I recommend strongly against doing so, even if you're only planning to work for an hour or two. At the very least, I will always choose to go to a coffee shop to work.
The chairs in the typical hotel room are not comfortable for working at a computer for any length of time, even if you're lucky enough to get a room with a desk and an office chair. None of it is particularly ergonomic and, if you spend as much time in front of a computer as I do, too much time in a bad chair has a noticeable impact on my mood and ability to work. Add that into the less-than-ideal internet access some hotels offer and it's clear why I'm out the door as soon as possible.
Coworking spaces offer a lot more than the typical coffee shop and I never feel like I'm squatting. Many spaces have a day rate that's about equal to the amount of coffee I'd have to buy to work all day at a coffee shop and I don't wind up jittery as a result of too much caffeine. As an added benefit, I get to meet locals and hear about what they're working on — an invaluable add-on for someone who's always looking for story ideas!
The Mix of Ideas
Particularly for those of us who work in such a way that we don't have to interact with people on a regular basis, coworking spaces are a blessing. They're a low risk-opportunity to interact with people and ensure that our social skills don't atrophy. Even for introverts, talking to people is a necessity: without that diversity of connection, it's harder to form new ideas or pursue new projects.
I can't count the number of times I've been sitting in a coworking space and struck up a conversation with someone nearby with an entirely unexpected result. I've connected with people who I've been able to interview later on, who have needed my skills right when I happened to be handy or who have just wanted to go grab coffee. In terms of the ability to connect with people, I compare working in a coworking space to the best parts of attending a conference: I'm able to meet a bunch of new people with somewhat similar interests in person.
The low-risk aspect of this mix is particularly important to me. If I'm just sitting around and talking shop, I don't want to deal with anyone who is going to think I'm crazy for not having a day job in the first place. I get enough of those conversations as it is. Anyone working out of a coworking space has similar basic assumptions about work that I do, like not necessarily needing a traditional 9-to-5 to do well. Of course, just because someone is sitting in a coworking space, our opinions won't be identical — and that's the fun part. I'm just after avoiding conversations where the entire concept of what I do is foreign.
Why I Don't Currently Belong to a Coworking Space
You'd think that with all my love for coworking spaces, I'd be a full-time member somewhere. I'm not, currently.
There are a lot of factors in play:
Logistics: With all the time I spend traveling or otherwise unable to go into a local coworking space, there is rarely a month where I could get my money's worth out of membership. If I could pay for some sort of pass or membership card that gave me access to all the different coworking spaces I land at, I would go for it in a heartbeat. Bring me a pay-as-you-go coworking scheme and I'll be happy.
Pickiness: I am exceptionally picky. None of the coworking spaces near me are exactly where I want them to be located, offer precisely the combination of amenities, or are otherwise perfect in every way. This sheer, unadulterated pickiness has lead me to almost start my own coworking space twice.
A Good Home Office: I already have a pretty decent set up in my home that I know I work well in. I head out of it on a regular basis and have no problem getting a day pass at a coworking space or working from a coffee shop as needed, but I don't need a permanent home for my work elsewhere.
I get my coworking fix on a regular basis, even without having a standing membership. I'm willing to guess that sooner or later, I will join up with a coworking space on a more regular basis, but for now, I'm comfortable looking at the many options on the road.
Image by Flickr user Rick Turoczy